Enjoy the Himaka Island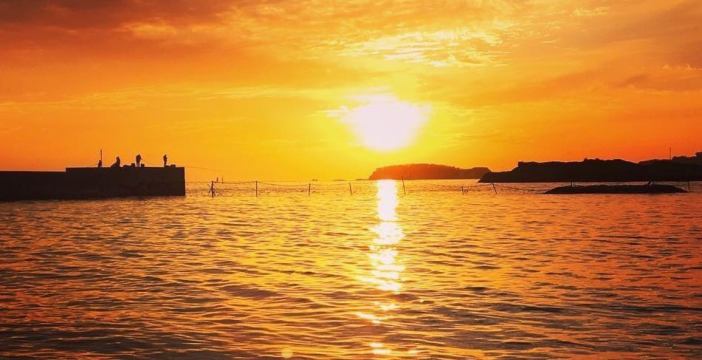 Enjoy Himaka Island island closest to Nagoya
7 or 8 minutes by high-speed boat from Minamichita
The surrounding area is about 5.5km, and it is an island that you can go around in about 2 hours even if you walk comfortably.
Himaka Island has many places and events to enjoy, such as swimming and clamming.
Such as interaction with fishermen experience and dolphins, please to experience the splendor of Himaka Island through the experiences and tourism.
East-West Octopus Monument

East Port:Gasshi

Himaka Island you arrive at Himaka Island,
A cute octopus monument welcomes you!

West Port:Nisshi

Currently wearing a mask,
Nisshi will welcome you.

Himaka Island sightseeing

Bicycle rental/Loan rod Ikoi

2 minutes walk from the hotel.

[Bicycle rental]
Himakajima, which is a little Himaka Island away on foot, is also a Swiss bicycle.
How about cycling with the sea breeze looking for a superb view point?

[Lending rod]
Even if you come empty-handed, you can rent a rod with food, so
Even beginners can experience "embankment fishing".
Why don't you enjoy it on the embankment right next to the West Port


Swimming in the Ocean

[Sunset Beach]
A short walk from the hotel.
Sunset Beach with beach umbrellas lined up on white sand in summer.
It's not too big and it's crowded with families and couples like a private beach.
You can enjoy swimming on the island.

[Sunrise Beach]
30 minutes walk from the hotel.
Kids Adventure at Sunrise Beach
Held every year from mid-July to late August.
Make rafts, snorkel and explore the ocean
You can run the sea with a sea kayak and it is full of charm.

Octopus dried fish making Kaneto Shoten

3 minutes walk from the hotel.
Himaka Island only dried fish shop "Kaneto Shoten"
You can experience making dried octopus fish.(Reservation required)
You can take the dried fish you made with you.
Please enjoy the taste of handmade Himaka Island


Museum

15 minutes walk from the hotel.
Changes in fishing gear, fishing boats in the Himaka Island, exhibition and thousands of years ago excavated goods.
A black pine forest can be seen in the east.

Anrakuji Temple

30 minutes walk from the hotel.
The principal image is Tako Amida Nyorai (Octopus Amitabha Tathagata), the origin of "Octopus Island Himaka Island
Please enjoy the Tathagata who was pulled up by the fisherman's net.
It is said that Oodako was firmly guarding it.

Lover's Swing(Known as:Heidi's Swing)

30 minutes walk from the hotel.
Climb the stairs at the eastern end of Sunrise Beach,
It is a swing hung on a big tree.
It overlooks the sea and is also a popular photo spot.


Himaka Island event

Contact with dolphins(Scheduled from May to August)

Please come and see the dolphins Sunset Beach (Nishihama Beach) in front of the hotel.
You can also touch it.

Seine net experience(Scheduled from April to October) *Reservation required

A net set off the beach is on the beach
We will pull in with the power of all the participants.
Look forward to what you can catch.

Grab an octopus(Scheduled from May to August) *Reservation required

It is the octopus catching can only experience in Himaka Island

Minamichita Tourism

Minamichita free to enjoy the taste of Minamichita at home.
There is a tour factory, and the finished products are sold directly.

It is an experience-based flower picking farm where you can pick flowers all year round.
From November to May
We sell vegetables sold directly from production for 50 to 100 yen.

Stained glass, sandblasting, borosilicate (both silicate glass), etc.
There are glass experience classes and experience guides from work introductions and construction examples.
There are also dragonfly balls.